More than 150 Faculty Members and Research Associates, are serving on an honorary base in the NGCEF at the beginning of 2021. Distinguished Professors, Researchers, Professionals,and many early-stage young researchers, collaborate under the umbrella of free high-quality education.
Until 2016, more than 35 students participated in the free foundation training program, from all over the world and got involved in high impact projects, collaborations,and publications!
We proudly inform you that NGCEF members come from 35 countries, during the first 5 years of operation.
Australia, Bangladesh, Bulgaria, Canada, China, Denmark, Egypt, Estonia, Finland, France, Germany, Greece, Iceland, India, Indonesia, Iran, Italy, Japan, Korea, Libya, Malaysia, Mexico, Nigeria , Pakistan, Peru, Poland, Portugal, Republic of Korea, Saudi Arabia, Serbia, South Korea, Turkey, UK, USA, Vietnam.
 We are pleased to announce, that due to the several admissions of new Faculty Members, NGCEF Governance Board decided to re-structure Faculties and Departments as follows:
A.    Faculty of Science
    I. Department of Health Sciences
    II.  Department of Science and Engineering
B.     Faculty of Social Sciences and Arts
      I. Department of Management and Business Administration
      II. Department of Social Studies and Arts
See mode details in the Faculty & Staff Menu!
2nd International Cancer Study & Therapy Conference
Feb 20-22, 2017 at Baltimore, USA
Organizer: Madridge Publishers
Dates: Feb 20-22, 2017 at Baltimore, USA
Event Website: http://cancer.madridge.com/
Contact person in case we need more information:
Name: Jennifer Roy
Email: This email address is being protected from spambots. You need JavaScript enabled to view it.
Phone: +1-302-231-6959
2nd International Cancer Study & Therapy Conference (Cancer-2017) is going to be held during Feb 20-22, 2017 at Embassy Suites - Inner Harbor, Baltimore, USA. Cancer-2017 bring upon a new platform to share and discuss all the innovations in the cancer diagnosis and treatment.
Cancer-2017 mainly showcases comprehensive approaches in cancer study and research, cancer diagnosis and treatments of various Organ specific tumors. The Cancer Conference revolves around the novel cancer drug discovery and development. Cancer-2017 conference includes Plenary lectures, Keynote lectures and short courses by eminent personalities from around the world in addition to contributed papers both oral and poster presentations.
Read more: 2nd International Cancer Study & Therapy Conference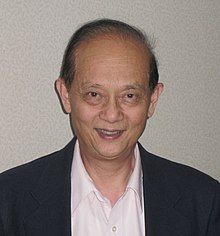 We are pleased to announce that the Distinguished High Impact Professor Kuo-Chen Chou joined NGCEF.
Dr. Kuo-Chen Chou is the founder of Gordon Life Science Institute, the first Internet Research Institute ever established in the world. He is also a Distinguished High Impact Professor and Advisory Professor of several Universities. As of June 2019, Professor Chou has published over 600 papers with H-index over 148 according to Google Scholar Citations. He has been named by Thompson Reuters/Clarivate Analytics as a Highly Cited Researcher in 2014, 2015, 2016, 2017, and 2018, listed in the  "World's Most Influential Minds". In 2017, he has been selected by Web of Science and Clarivate Analytics as one of the 21 "Brightest Stars" in science. For more information about his publications, visit his web-page at http://gordonlifescience.org/.
Dr. Salman Akhtar (one of the honorary faculty members of NGCEF) expressed his willingness to undertake two internship students for pursuing research programs on "In silico approaches for combating AG processes involved in cancer treatment" as a part of NGCEF Research orientation program.